Obenaus Permaculture Design – 2017 and Beyond
By Catherine Falardeau Marcoux & Cisco Le Ray Armstrong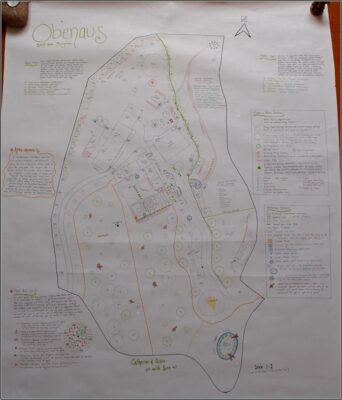 Since Cisco and I were first invited to stay at Obenaus as long-term volunteers back in November 2016, we were both excited with the opportunities that it presented in terms of practicing permaculture. We had just came back from a year in India and Nepal, where we completed our Permaculture Design Course (PDC) outside Mumbai and had the chance to practice with our first project in Kathmandu. Arriving in Europe, we had envisioned that it was time to stay in one place for a full year cycle to really experience what it is like to work with nature all through the different seasons. We thought this would help us become better observers and understand the principles of permaculture in a more profound way, which it did, both the natural and social side of it! Thanks to the whole Obenaus Community!
The daily and seasonal tasks were numerous and learning was continuous. I could write a full report/ reflection on our experience. Yet, the purpose of this post is to present our last gift to Obenaus : a permaculture design that represents the visions and ideas of its members. The map/ design above shows the Obenaus land as it was during our stay (from November 2016 to August 2017) as well as the different details that were co-imagined and designed as possibilities for the future. This design is not meant to be permanent or set to a particular plan. Rather it represents a fraction of what is possible and its purpose is to encourage the dreaming to continue and hopefully become reality little by little.
The map is mostly to scale (1cm on the map = 2m on the land) with some distortions to the south. It was created using pacing and triangulation, but the complicated topography of the land made it more challenging than expected. In the legends, one can observe what each symbol represents which help to understand the design. Some additional descriptions are also given for the different areas of the land, such as the orchard and the fruit tree guilds, the forest restoration, the forest edge polyculture and the north edge polyculture. Below are some close-up pictures of the map for the different sections. Yet, because the pictures and texts are not very clear, I strongly recommend a visit to Obenaus to see the design in person and discuss it with Lena. One can also refer to the other posts on this page regarding permaculture.
The Legends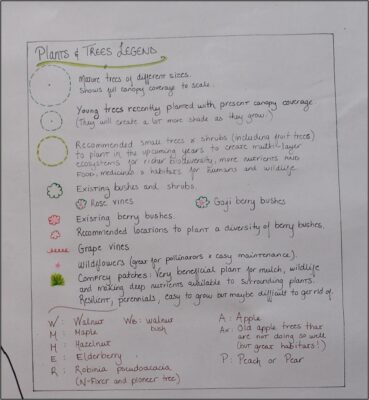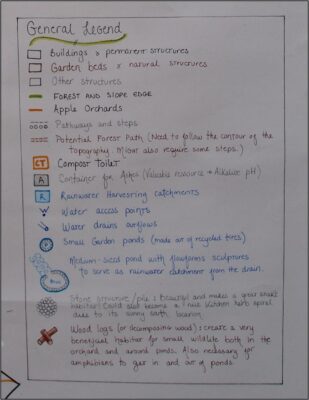 The Gardens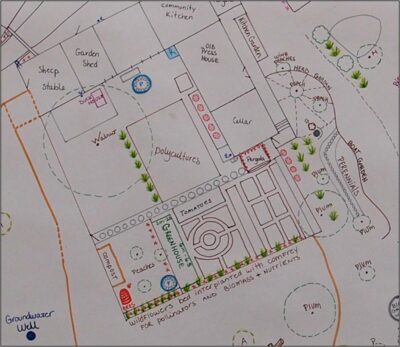 The Capsula area (smaller orchard) and Water Treatment area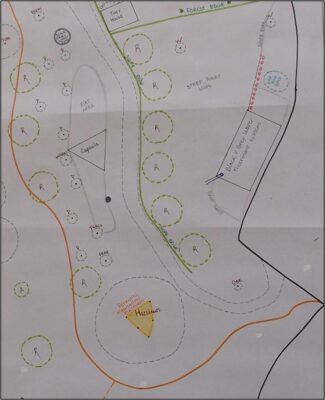 The Forest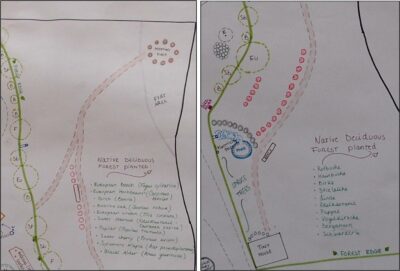 Thank you Lena & Rainer for hosting us and giving us this opportunity to practice and grow!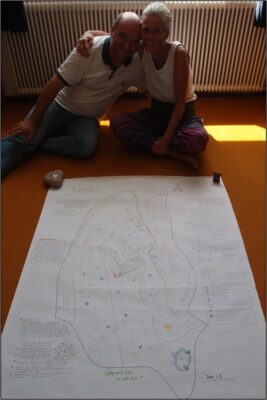 With Love,
CisCat