18 till 21 July 2019 in Obenaus - a 3 day Art of Hosting training and inquiry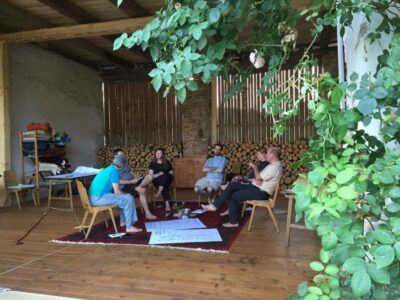 Inspired by the hosting of the Next-Stage.World Gatherings, we will explore how the Art of Hosting is best in service for the next-stage of organizations that are growing up all over the planet.
Hosting: Rainer v. Leoprechting, Jackie Thoms, Michael Nußbaumer (and you?)*
Content: All participants with questions and insights
Learning: Practice your facilitation towards hosting. Find your own place in the unfolding of the practices. What new organizational structures and process need.
Fees: The financial Contribution for learning participants is 725.00 € for the 3-day event. Reduced rates are available for experienced practitioners, and NGOs. Your stay in the Open House in Obenaus is not included in the fee.
Working times: Arrival on Thursday, 18 July. Welcome dinner and evening gathering at 18:00.
Workshops begin at 09:30. Regular workshops end at around 17:30. Voluntary sessions are possible after that hour. We organise lunches and dinners in Obenaus.
What we will train and practice:
The principles of the Art of Hosting and Harvesting Conversations that Matter
Meeting in and holding Circle, world café, pro action café, Open Space
Many more formats and processes in function of your needs and learning desires
Being together in an intentional community – hosted by Obenaus
Living in tune with Human Nature and the Earth.
What will we explore:


How to be and work together in an organisation, where the whole Self is engaged, the work inspired by an evolutionary purpose and the work organized directly by the people doing it?Who do we need to be to be productive in such an environment?How do we best meet in and around such organizations?
What is the best contribution from Art of Hosting into the "operating systems" of next-stage organizations?
How does the four-fold practice of the Art of Hosting unfold the development of the practitioners and the practice?
What is the next stage of Art of Hosting as a consequence?
Be welcome to join with your own question!!
*We invite stewards in the Art of Hosting or Next Stage Organizing to join the inquiry. In exchange for wisdom the participation is free for stewards. We have a limited number of places.