A SOCIAL VEGAN PERMACULTURE DESIGN COURSE
It is with great pleasure that we announce a social vegan permaculture design course at Obenaus, South Austria.
The course will be for 14 days from 12th to 27th October. This includes 2 free days, which could be used for site visits or hands on activities.
Additional one day courses for those who cannot make the full course:
1 day introduction to sociocracy (12th October)
1 day introduction to permaculture (13th October)
1 day introduction to creating food forests (19th October)
1 day introduction to urban permaculture (20th October)
For people who have done the introduction to permaculture day, you can stay on for some of the core days (14th Water; 15th Soils or 16th Plants).
COURSE INTRODUCTION
This fully certified course (certified by Permaculture Association Britain, and Roots n Permaculture School) will delve deep into how we can use permaculture to create rich beneficial relationships between people, communities and their surroundings. This includes how to grow food, build houses and create economies, while also enriching and taking care of nature.
Special emphasis will be put in creating a temporary community for the duration of the course. We use social permaculture tools to make sure everyone's needs are met, so we can all enjoy living together in a joyful, supportive learning environment.
WHAT IS SOCIAL AND VEGAN PERMACULTURE?
Permaculture is a design system for creating abundance in all aspects of our lives. Permaculture teaches us how to build natural homes, grow our own food, restore diminished landscapes and ecosystems, catch rainwater, build communities, take care of waste and much more.
The word 'permaculture' historically comes from 'permanent agriculture' and has evolved into 'permanent culture'. It is about living lightly on the planet, and making sure that we can live in harmony with nature while sustaining human activities for many generations to come.
Permaculture is a rigorous and systematic set of tools, ecological principles and methodologies, underpinned by ethics, which help us to design and create this culture of permanence. A culture that allows us to design how we cater for all our needs, the needs of the planet and all its creatures, without exploiting or depriving other humans or creatures of their needs.
The ultimate goal is to create systems that create abundance for all humans, creatures and mother Earth, without exploitation of humans, animals or Earth's non renewable resources.
With permaculture insight we can design our inner tranquillity. It can be applied to creating integrated and supportive communities, building or retrofitting houses to be more energy efficient, creating ethical businesses and livelihoods, as well as creating rich abundant low maintenance food growing spaces.
This course will not cover animal husbandry. In Rakesh's designs, animals are all welcome to come and welcome to leave, but are never tied into the system or exploited. So we will talk about creating habitat, but not about animal husbandry.
PDC COURSE SYLLABUS
The course will from day one put into practice social permaculture. We will create a community and practically explore how we ensure everyone's needs are met, and how everyone can safely express themselves, without conflict. Having found our inner balance and balance within our newly forged community, we then move into exploring the traditional permaculture syllabus, including environmentally friendly food growing; soil generation; water management; house building; alternate economics and livelihood, etc.
Having explored the theory of permaculture ethics, principles and approach to challenges, we will then move on to in-depth design work and practicals (hands-on work), which solidifies the theory.
The emphasis remains on learning the patterns and concepts that are applied in permaculture, so you can apply this to all aspects of your life after the course has finished. Hence the practicals will be a way to reinforce the theory and design work that we cover.
Where and when appropriate we will visit nearby intentional communities and projects that integrate permaculture in their design (subject to consent by the students).
The syllabus will cover the following areas:
– Principles of Natural Systems
– Sustainable Design Methodologies
– Patterns in Nature, Culture and Society
– Reading the Land & Understanding Natural Processes
– Large Scale Land Restoration Techniques
– Water Harvesting Technique
– Design Principles of Sustainable Human Settlements
– Grey Water Recycling
– Natural Building Strategies
– Cultivated & Productive Ecologies
– Food Forests, Plant Guilds, Gardens for Self-Sufficiency
– Energy Conservation Technologies
– Appropriate Technologies and Renewable Energies
– Urban Environment Permaculture
– Wildlife Management and Biological Pest Control
– Community Activism
– Invisible Structures: People, Community, Economics, EcoVillages
– Sociocracy; Dragon dreaming; Six thinking hats
– Community Supported Agriculture
– Action Learning
– Systemic constellation work in design and community life
– At the end of the class, students engage in a group design project.
LANGUAGES
The course will be in English, and if necessary we are happy to provide simultaneous translations for those who need it. E.g. in German, Swedish, French, Portuguese…
TEACHERS / FACILITATORS
Permaculture teacher / facilitator of learning
Rakesh Rootsman Rak – An experienced Permacultre designer teacher, forest garden specialist, yoga teacher, homeopath and reggae DJ. Rakesh has been designing and teaching permaculture to individuals and communities since 2009, and has taught over 200 permaculture, forest gardening, eco village design and related courses. His design portfolio ranges from large scale forest gardens in eco villages through to many urban community food growing gardens, private farms and back gardens as well as designing collaborative businesses, urban water retention systems and even computer software and documentation systems. Rakesh is also passionate about building communities, and the social side of permaculture, hence using sociocracy, dragon dreaming and other great tools and processes to create strong social bonds with clear ideas of how to creatively meet your needs in a project or community. He is also passionate about sharing his journey of self empowerment (learning how to make all the things you need for yourself rather than relying on the system to provide for you), this includes eco architecture (low impact housing); capturing and storing energy (electricity, heat, lighting, etc); fuel efficient heating systems (rocket heaters and stoves); water capture, purification and recycling systems, natural bee keeping and so on.
He is one of the founders of the Children in Permaculture project (CiP), and is also one of the founders of the Youth in Permaculture (YiP) project. So be prepared to go off on inspirational tangents occasionally.
http://www.ecologicaldesigns.co.uk
http://youthinpermaculture.org
http://childreninpermaculture.com/
Sociocratic facilitation
Sven Latzel – Freelancing as an organisational and IT consultant and expert in Sociocracy. Since 2005 he has been actively working to make the world of work more effective, more mindful and more human. First of all with IT, and in recent years with a clear focus on humans and on the processes which connect them.
He worked for many years with a variety of clients, learning about diverse and international cultures, gained a clear insight into the structures and processes which makes an organisation successful.
Clear and efficient Facilitation
Sociocracy (Sociocratic Circle Method and Socioscracy 3.0)
Dragon Dreaming
Art of Hosting
Theory U
Agile Coaching
SCRUM and Kanban
Enterprise Architecture
Art of hosting
Rainer v. Leoprechting – A master consultant and innovator, Rainer practices and develops next stage organizing methods. In Brussels he introduced participatory and innovative methods like the Art of Hosting or Action Learning into the workings of the European institutions. Rainer's interventions combine many methods:
Holistic Organization Design
the full palette of Art of Hosting practices
Systemic Constellation Work
Action Learning
Process Consultation
Pro Action Café
Story-based Recruitment Match for Cultural Fit
Developmental Assessments and Coaching
Lena Maria Jacobsson – Co-Founder of the Obenaus community, Lena practices biodynamic principles and permaculture since many years. She is a steward in Art of Hosting which she co-introduced at the European Commission. At Obenaus she inspires and works with the natural garden, food and kitchen using and preserving nature's resources. Some practices she leads:
Certified Biodynamic farming practitioner
Art of Hosting
Systemic constellation work
The Work (Byron Katie)
Subtle realm connections
Yoga
Permaculture practitioners
Catherine Falardeau Marcoux – A permaculture designer and practitioner, Catherine specializes in ecosystem restoration, cartography, flora and fauna conservation, and geomorphology. She spent one year living and working at Obenaus, introducing permaculture aspects onto the farm as well as co-creating a map and basic design for the community.
Cisco Armstrong – Fascinated by nature's inherent capacity to facilitate learning, Cisco specializes in what could be called social permaculture. He also spent one year living and working at Obenaus, introducing permaculture aspects onto the farm as well as co-creating a map and basic design for the community.
THE VENUE
The training takes place at the Obenaus Community in southern Austria, near the border with Slovenia. The Obenaus Community is a repository of Social permaculture practice, using Circle and Art of Hosting as operating system for its key conversations, from daily check-ins to major community decisions.
Nested at the rim of a peaceful village, the venue invites the visitors to slow down, hear the soul's whisper, engage in meaningful conversations and be nourished by lovingly prepared local food as well as the greater container of Nature and Mystery that surround the farm.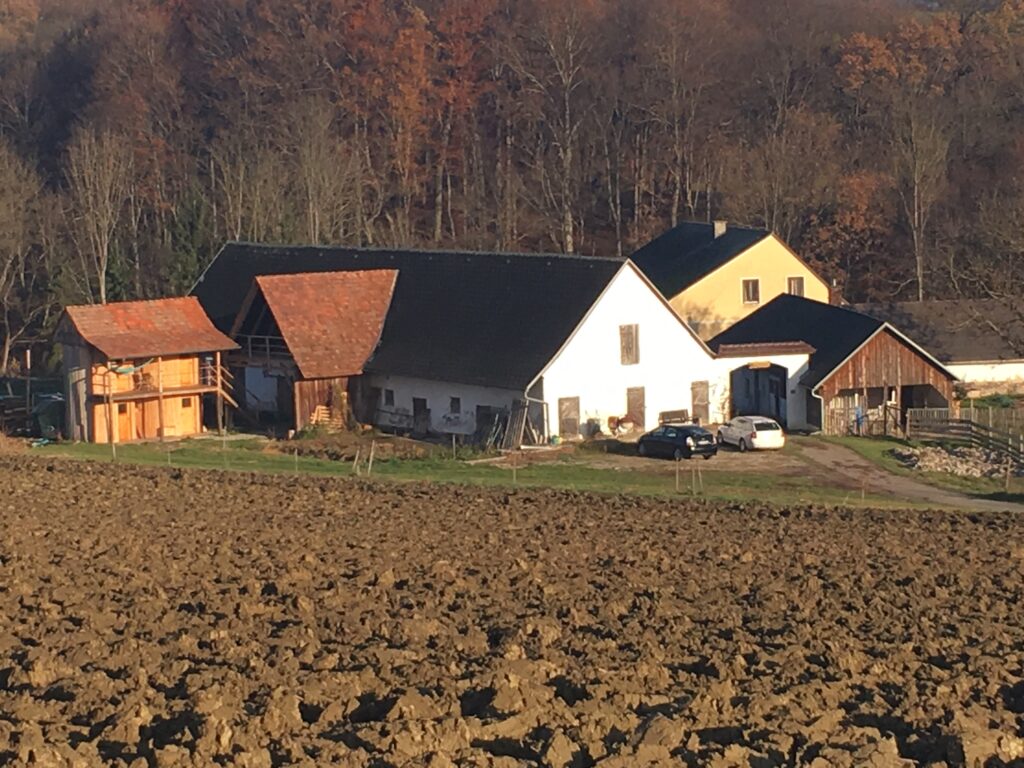 FOOD
To create a deeper sense of community, throughout the course we will create teams who will help cook every day. We will create a system which allows us to express what our dietary needs are, so that we ensure every meal is ideal for everyone. Initially we request the food is vegan, but we will then decide on what is best for the community using the collaborative decision making processes from Sociocracy.
14 DAY ACCREDITED PERMACULTURE DESIGN COURSE TRAINING COSTS
The cost for the training is based on a hybrid gift economy, where participants are invited to contribute what they can afford and are willing to pay. To cover the ideal training costs we need to raise on average €820 per person. However we invite you to propose how much you would like to contribute (ideally between €420 and €1020, but you can also offer less if you write to us to explain your situation).
We encourage those of you who can contribute more to do so, which should allow us to cover our costs comfortably. If there is a shortfall in the final sum (which by experience is unlikely), we will request the shortfall to be covered anonymously via a magic hat process. This process is part of the permaculture ethos, which allows people to pay according to their capacity, while meeting the needs of the hosts, teachers, etc.
ACCOMMODATION COSTS
To make the most of the PDC and increase the exchange in-between participants, we invite people to stay on site for the nights as well. We have a mix of sleeping spaces at venue, including beds indoors and camping spots outside. camper vans, or sleeping in your own car is also possible.
The accommodation costs are
– €10 per night for camping incl. water, warm showers, WLAN, use of all facilities. So count with €140 to €160 depending on if you stay over the days off.
FOOD COSTS
To ensure we keep the food costs and quality at a level the students require, we are adopting the tried and tested self organising method.
This means we will ask you to either bring enough food ingredients to cover your food needs for the duration of the course or bring a mix of food and cash. The food could include home grown veg, grains, preserves, etc. The cash will go into a pot which will be used to buy food as and when required, which will be managed by an elected group of participants.
The hosts have a very good network of local producers and food cooperatives so are suggesting if people contribute €30 each by the start of the course, they will buy enough local/organic food for 4 or more days.
This method has proven to be very successful, as it promotes collaborative decision making and collaborative working. It also allows people to contribute in a way that suits their budget.
Participants from previous courses have taken well to this method and noted how the food budget was significantly less that what they would have expected on any other course.
PAYMENT METHODS
Euro bank transfer
PayPal (€ £ $)
English bank transfer
Cash (by arrangement)
CONTACT
For registrations and course content contact (English):
Rakesh "Rootsman Rak"
– Rakeshaji@gmail.com
– https://www.facebook.com/rootsmanrak
– https://www.facebook.com/RakeshRootsmanRak
For accommodation write to Obenaus:
obenaus(a)obenauscommunity.org
REGISTRATION FORM
https://docs.google.com/forms/d/e/1FAIpQLScuBVINOkjdHHWigkLRc1YSv1sM0z0qbwClQP-jOOghETtr3A/viewform