How to get to Obenaus?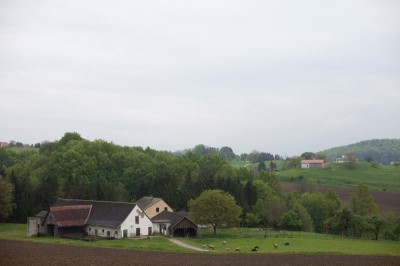 Train: Train stations Spielfeld (international trains from or to Zagreb, Ljubljana and Vienna stop here) or Ehrenhausen (local train connection from Graz or Spielfeld). Tell us when you come, we pick you up. Walking also possible (2 km or 3 km distance to Obenaus).
Air plane: Next airports are Graz (direct train connection to Ehrenhausen) or Maribor (bus to Maribor, train to Spielfeld, or we pick you up directly at the airport). Also possible is Zagreb (with a direct bus going to Spielfeld) or Ljubljana (bus to Ljubljana, then train to Spielfeld). Many international connections go via Vienna or Bratislava. Take a train from there via Graz.
Car: From the A9 motorway take the exit Vogau-Strass. Follow through Ehrenhausen. After a few sharp turns in the village turn left uphill to "Berghausen". At the second left on top of a first hill turn left, there is a plate "Obenaus" and a sign "Naturpark". Go down into a little valley, take the next left: You are there!
Contact us and register for your stay at obenaus@obenauscommunity.org 
Adress: Ewitsch 2, 8461 Ehrenhausen, Austria
+43 680 3060900 (Lena)
+43 680 132 7177 (Rainer)
obenaus@obenauscommunity.org
www.facebook.com/obenauscommunity