Re-EDEN-ing
re-EDEN-ing @ Obenaus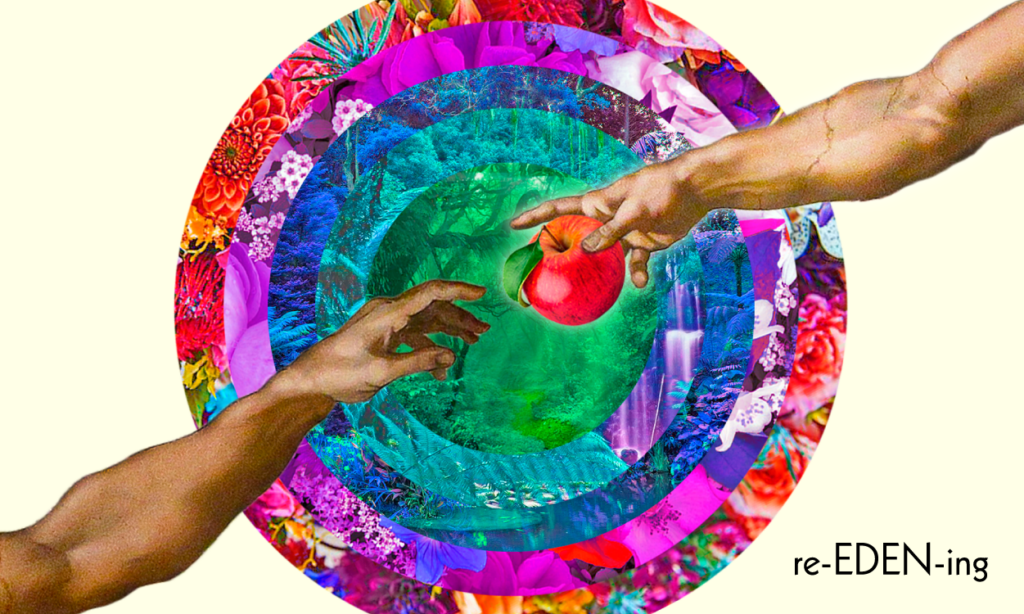 (EN) Why re-EDEN-ing? We consider the practice of re-EDEN-ing to be the remembering of our interbeing. In times of transition and chaos, instead of going for the low hanging fruit of the knowledge of good and evil, we practice perceiving the world beyond the binary – with more depth, contextual and relational information.
For that we reconnect with our embodied intelligence, our relationships and our being embedded in place. We explore through various group processes, what it is like to be in a dialogic rather than purely instrumental relationship with the world.
The question of inquiry is: what kind of practices support and nourish us to contribute our individuality to the collective?
We invite you to come and join Fraendi and the Obenaus Community for 2,5 days of re-EDEN-ing. We will experiment with different modalities that are supportive of remembering our interbeing. We explore how we can create containers that nourish our need for belonging enough, so that our differences can be generative of learning for the whole, rather than fragmenting.
We will explore how perceiving complexity requires information of the inter-relational field and of a variety of interdependent contexts (Warm Data Labs, Nora Bateson).
We will awaken our senses through dance, music, the outdoors, and connection, and see how this influences our ability to contribute and be in the evolving whole.
We will host a grief ritual, inspired by Joana Macy's The Work That Reconnects, to give space for the transformational power that comes from holding sacred space for our emotions to move and inform our being.
And there will be space for any co-creative emergence that arises. Welcoming the spirit of play.
COVID-19 HYGIENE CONCEPT
In accordance with Austrian regulations ( until end June 2021) we will limit the number of participants to 10.
This way we can safely and joyfully engage in the group processes.
We also ask that all participants fall into one of the below:
Have a negative Corona Test that has been made in the last 24 hours

Already had COVID

Have had the full course of vaccines
(DE) Warum re-EDEN-ing? re-EDEN-ing ist ein feierlicher Flow aus verschiedenen Gruppen-Prozessen, die uns an unsere tiefe Verbunden- und Verwobenheit hier auf Erden erinnert.
In chaotischen u potentiell transformativen Momenten wie diesen, laden wir dazu ein, der Versuchung der Frucht des Wissens von Gut und Böse zu widerstehen.
Wir vermuten dass uns eine Öffnung unserer Sinne, und Beziehungsräume, die kognitive, emotionale u physische Ebenen unseres Seins miteinbeziehen, sowie eine tiefe Neugierigkeit auf den Raum zwischen uns, wichtige Elemente für solch ein Zusammenkommen sind.
Die Frage, die wir einladen und erforschen werden ist: Welche Formen der Zusammenkunft und des Zusammenseins unterstützen und nähren uns auf eine Art und Weise, sodass unsere Individualität dem Kollektiv dienen kann?
Du bist von Fraendi und der Obenaus Community herzlich zu 2,5 Tage re-EDEN-ing eingeladen. Gemeinsam wollen wir erforschen was für Rahmenbedingungen ermöglichen, dass unsere Unterschiede den Boden für Kokreativität bieten können, anstatt dass sie uns trennen.
Das Warm Data Lab Format ermöglicht uns zu sehen, dass die Beziehung verschiedener Perspektiven und Kontexte uns in unserer Wahrnehmung von Komplexität unterstützen können. Und öffnet uns für Dialoge die unsere Weltanschauung auf einer sehr tiefen Ebene öffnen können.
Erwecken unserer Sinne durch Tanz, Musik, im Freien sein.
Ein Trauer-Ritual inspiriert von Joana Macy's 'The Work that Reconnects' – um uns der transformativen Kraft unserer Emotionen zu öffnen.
Ein ganz wichtiger Gast ist der spielerische und künstlerische Geist. Wir freuen uns über Impulse, die aus unserer Zusammenkunft hervorkommen.
COVID-19 HYGIENE KONZEPT
In Abstimmung mit österreichischen Regelungen zur Eindämmung der COVID-19 Pandemie (bis Ende Juni 2021) werden wir unsere Teilnehmerzahl auf 10 begrenzen.
Zusätzlich solltest Du zum Zeitpunkt des Treffens mindestens eine der folgenden Kriterien erfüllen:
Einen negativen COVID-19 Test, der nicht älter als 24h ist
Nachweis von Antikörpern, d.h. Bereits von COVID-19 infiziert und genesen sein
Die zweite Impfung ist länger als 14 Tage her
Register Now: