Residential Members

 
---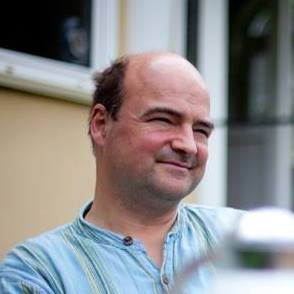 Rainer V. Leoprechting  co-founder of Obenaus, entrepreneur, vision, politics, history
Rainer (German) left Brussels after almost 20 years of successful career at the European Institutions where he initiated many innovative projects and processes to help the organisation work more smoothly, e.g. Art of Hosting. In 2012 Rainer left the institutions to set up a new company that introduces cutting edge processes for public and private companies together with a team of MSLS alumni.
Rainer is a post-systemic thinker with a sharp and informed mind, which helps making sense, finding patterns and hidden talents. He is an excellent coach, trainer and mentor and naturally engages in deep conversations that may impact your life. He is a permanent resident of Obenaus, working locally, internationally and virtually.
---
Lena Maria Jacobsson  co-founder of Obenaus, earth, mother, cooks soulful food…
Lena, originally from Sweden, is a searcher and a continuous learner – always looking for ways to live even more sustainably in connection with nature and people. Lena is a resource investigator and enjoys finding the best possible match between people, tasks, food, time, etc. In her search she left  the European Commission after 15 years as a civil servant working in many areas and last as a learning and organisational development official.
Four years ago she found Obenaus together with Rainer and decided to move from Brussels to Austria with her two boys (now 14 and 17 year old). Lena enjoys sharing her life experience and supporting, in particular, young people on their life path. You will most likely find Lena in the garden or in the kitchen – good places for a conversation that matters.
---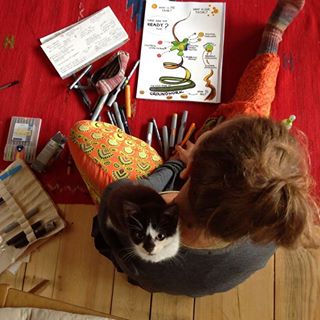 Viola Tschendel
Born in Germany, studied sustainable tourism and an alumni MSLS (2014) Viola is, among other things,a graphic recorder and facilitator working with the local community as well as internationally. She is a natural connector with people and between people and she is also involved in supporting the integration of refugees and asylum seekers in the area. Artist and entrepreneur; learning as she goes and creating natural products which are on sale in Obenaus. She has a talent to listen deeply and to visualise conversations in groups or with individual clients.
While at Obenaus, you can have a coaching session with Viola and you might become aware of something new about yourself and your life purpose. She moved to Obenaus in 2015.
---
Vihra Dincheva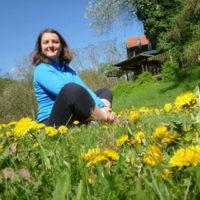 Vihra grew up in Bulgaria and with 18 moved to Germany to study International Business and Management. After her Bachelor she worked 6 years in Frankfurt as a management consultant. Her interest in sustainability lead her to the Masters in Strategic Leadership towards Sustainability in Sweden, which she graduated in 2015. She co-organized and participated in the first prototype of the Obenaus Learning Village in June/July 2015 and fell in love with this place. Now she is working as self-employed designer and moderator of online trainings where she inspires others to find and manifest meaningful life and work.
Vihra is great in offering, hosting and holding reflection spaces for herself and others. She is keeping and providing project overview, pulling threads together, as well as initiating next practical steps. She loves learning journeys and keeps others motivated too (like the 40 days yoga journey!). Make her happy with honesty and chocolate. Always up for a travel adventure.
---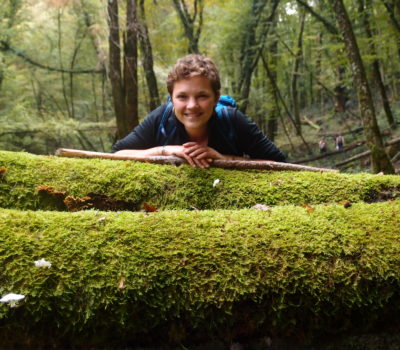 Catherine Falardeau Marcoux
Born and raised in Québec, the French-speaking region of Canada, Cath finds joy in everything related to the natural world. Having studied in Physical Geography, Ecosystem Restoration, and now Permaculture Design, Cath is motivated by a deep desire to continuously learn to be in harmony with all living organisms. She loves to experiment, learn and share practical skills of living off the land.
An observer by nature, Cath offers simplicity, gentleness, and deep listening. She is happy to share her passions and ecological awareness, and is great at introducing people to work with the land. While rooted in the Earth, Cath is also a traveller, having wandered the world extensively with her husband. Their journey brought Cath and Cisco to Obenaus in the autumn of 2016.
---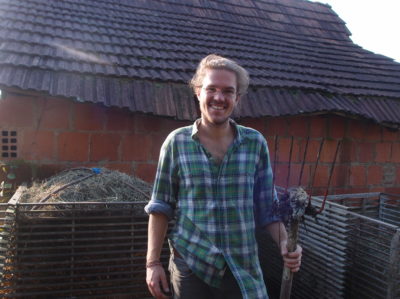 Cisco Armstrong
Cisco, from Canada, studied international and community development with an emphasis on rural and agricultural development. He also worked with children and youth, as a social worker, and as the program coordinator for a fresh food distribution network. He loves to find himself working (and living) at the harmonious intersection of people and nature, embracing diversity within both. Cisco has an adventurous side and looks to discover what is around the corner, actively seeking uncertainty as his preferred method of learning.
Now a student of permaculture and the natural world, Cisco enjoys being outside and working with his hands. That said, he is always ready for a good conversation and loves to share stories. Cisco arrived at Obenaus for a visit with his best friend (and wife), Cat, in November of 2016 and they have not left since.
---
Sam and Nils
Sam [18] and Nils [14] born in Belgium, enjoy using their 4 languages [DE, SE, FR, EN] with the community members, visitors and local inhabitants. After a tough start 4 years ago with over 1 meter of snow in the winter they have adapted quickly,  made many friends and entered the local football teams. Sam graduates school in 2016, takes off to the US and continues summer working in Sweden. After that he plans to travel and learn new cool things. 
Nils continues in Graz focusing on sports and enjoying the 1 hour train ride with his ex school mates from Ehrenhausen. Both Sam and Nils thrive in the healthy and international environment – many many nationalities passing at the farm. 
---